Whether you're in a phase of emotional or spiritual healing or you're just trying to lean into self-care for 2023, you don't necessarily need products to help you on your path — but the right tools can be motivating, encouraging you to continue moving forward with intention in your journey. I've been a lifelong journaler, for instance, and while I could keep up with that practice with any old notebook, the idea of creating more of a ritual around journaling sounded appealing. That's why I was excited to try out the Me Time Kit, which includes a custom journal, affirmation cards, and aromatherapy oil, all designed to help you level up your journaling morning routine.
Even though I'm not new to the practice, after using the journal for about a month, I gained a new perspective and outlook on a few other aspects of my life. The trick was taking the time to reflect on what I'm grateful for every day. Here's more about my experience with the Me Time Kit.
What I Like About the Me Time Kit
The Classic Me Time Kit ($125) is meant to encourage us to set aside time every day — whether it's one minute or 20 — to appreciate where the present moment finds us.
It doesn't require a ton of products to achieve that goal, either. The kit comes with a four-ounce bottle of concentrated eucalyptus oil ($65) along with the Me Time Journal ($45) and an Affirmation Card Deck ($30). The intentionally selected mix of products meant I was able to put myself in the mental space to clear away everything else and focus on my journaling.
Using the oil felt like being in my own personal spa. I personally just sit with the bottle open next to me to create a bubble of eucalyptus in the air, but you could also use a diffuser. If you want to rub the concentrated oil directly onto your skin, though, it's suggested to mix it with a carrier oil (such a jojoba) — about 15 drops of essential oil with six teaspoons of the carrier oil.
After spending a few minutes allowing the rejuvenating scent to do its aromatherapy work, the next step in my morning routine is to open the journal — which contains 150 pages and has journal prompts, information about morning routines, and more — to a blank template and focus on the activity at hand. I journal without keeping too close an eye on the time, then shuffle the affirmation deck and pull one card to recite, reflect on, and carry with me throughout the day. (The Me Time Kit notes that you can pull the affirmation card before journaling, too, but I liked to end on an affirmation.)
After my first few days of trying this new system, I saw the benefits. It felt like I was starting my days on a positive, uplifting note, and then bringing that feeling with me for the rest of the day.
What's Worth Noting About Me Time Kit
I'm a firm believer in using quality books for my notebooks and journals, and the Me Time Journal did not disappoint there. The fabric texture of the cover feels cozy, like it was supposed to be snuggled up with me when I'm relaxing.
In addition to the prompts and facts about morning routines, the journal also includes information about the power of writing in the morning, gratitude, meditation, and so much more, which I found so motivating when it came to sticking to my routine.
Overall, the entire kit comfortably fits into my current self-care plan without feeling like a heavy shift, which I really appreciated. (The last thing anyone wants is to stress over self-care.) And just in case anyone feels like they don't have the time to do the entire 20-minute routine recommended with the kit, there are one-, five-, seven-, and 10-minute variations as well. So no matter how your day starts, you have something to work with to give yourself that moment of introspection.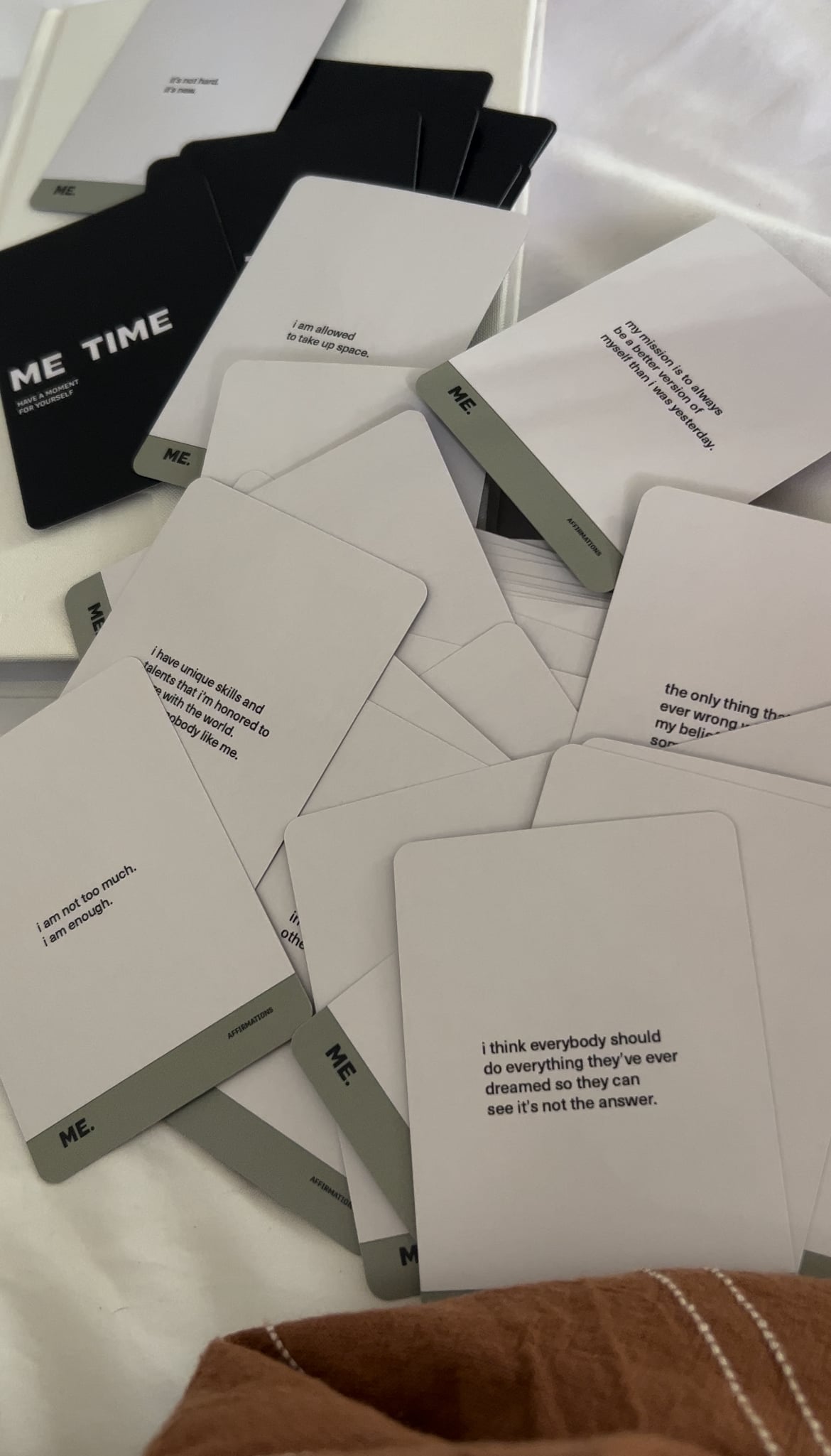 Who the Me Time Kit Is Best For
The Me Time Kit is for anyone looking to slow down their mornings and take time for themselves. Whether you're deep into your healing journey or at the beginning, or if you just need to get your mind right before starting your day, everyone can benefit from taking a few minutes to practice gratitude, consider the things occupying your mind, and set reasonable goals for the day.
Even if you don't consider yourself a writer, this kit might be a new way to tap into your creative side and spark inspiration in other areas of your life. The prompts are simple and made focusing much easier so I could get my thoughts out, take a few deep breaths, and go forth with a lighter heart.
Is the Me Time Kit Worth the Splurge?
If the price of the Classic Me Time Kit seems steep, think of it like I do: as an investment into a new lifestyle change. When I started using the journal and making the space for myself, I felt more awake in the morning (can't think introspectively while half asleep). I began actually wanting to sit with myself and my thoughts. It became a practice of bringing my physical self and spiritual self — and, in a way, every part of myself — back together before I tackled the day. That time and the effects the writing had on me made the price seem less daunting.
Plus, Me Time also offers an affiliate program; if you sign up for it and people use your code to buy the kit or the items separately, you get 20 percent off the purchase price, which could ultimately pay for your kit.
Additional Details
The morning routine also has a musical component. There are 11 Spotify playlists to accompany your "me time" and set the mood for the day. You can channel a season (maybe you enjoy the upbeat bops of summer or dreamy vibes of winter) or listen to binaural and lo-fi beats to help you focus. The musical benefits are explained further in the Me Time Journal — referencing music as a way to improve the mind and memory and ease anxiety after stressful situations — along with tips on how to meditate with the curated playlists. I'm a big fan of lo-fi so the focus playlist has been my personal favorite.
Where Is the Me Time Kit Available?
The Me Time Classic Kit is available at haveamomentforyourself.com.
Rating:
Image Source: POPSUGAR Photography / Moná Thomas